Sexton's flashbacks to Lions tour before chaotic decider swing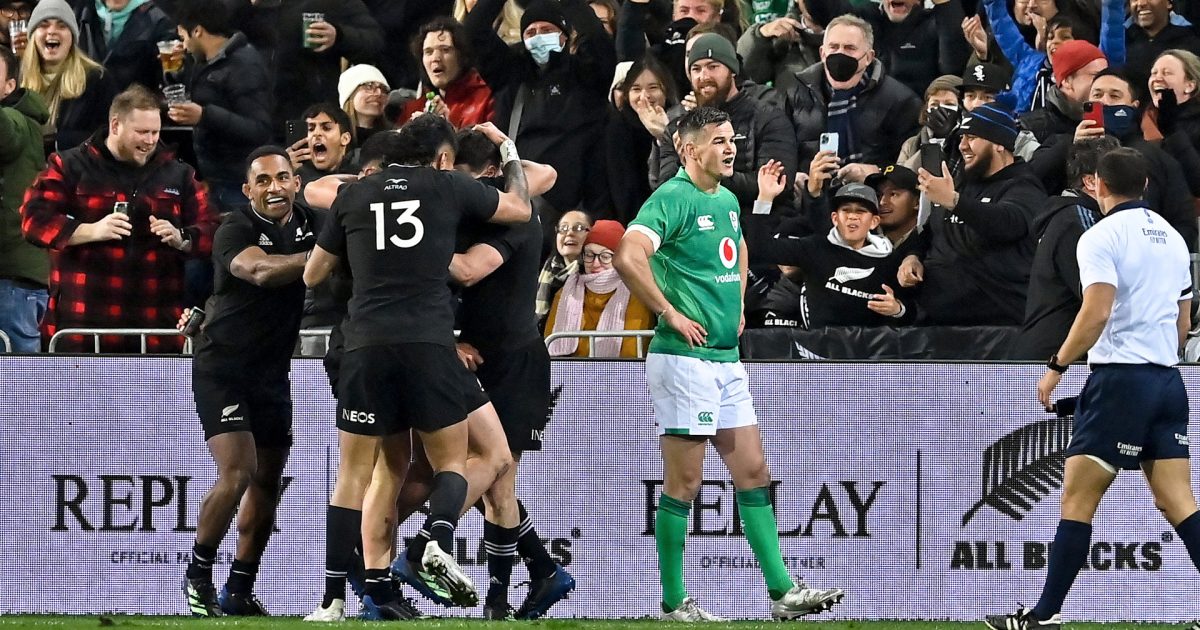 Johnny Sexton could only watch as All Black winger Will Jordan took him outside and escaped for a power try that threatened to derail Ireland's hopes of a historic win.
The pivotal moment brought the All Blacks within three points at 25-22, which came moments after a long-range penalty attempt from Sexton hit the crossbar.
With minutes remaining on a yellow card, Sexton's penalty attempt would have extended the lead to 28-17 as Ireland were down to 14 men, instead they were forced to regroup under their own goal posts with the All Blacks taking the momentum.
All Blacks post-match press conference
"I thought I had it for the pace, yeah," Sexton joked as he tried to cover Jordan's breakaway.
"You always doubt, but you have to have the mental capacity to come back to the present, the moment. It was a big swing, wasn't it?
The Ireland captain revealed he had thoughts swirling from the second Test of the 2017 Lions tour as he lined up the goal kick, likening the moment to England fly-half Owen Farrell's game-winning penalty from that that night.
"Let the ball come out of the crossbar like that. It was crazy, I was actually thinking about Owen's kick against the All Blacks to equalize [Lions] series from a similar place," he said.
"I just felt it was a big kick, and it came off the crossbar, I was gutted.
"It was a great swing but it just shows the character of the team, to be able to come back from that.
"It's the moments from previous years against New Zealand that would have turned the game around. It's the nice margins we would have talked about had we lost.
At 25-22, the All Blacks were on a wave of momentum after Jordan's try, but Ireland were able to regain control after Sexton's restart.
A short kick from Sexton into midfield was hit by David Havili, giving Ireland an attacking scrum from midfield 30 yards out.
Ireland ran a blind game where Bundee Aki punctured a tight gap to knock Ireland inside the five, before an indiscretion by Ardie Savea at the ruck was penalised.
Sexton said the decision to kick the corner a second time was credit for locking out James Ryan, and the decision paid off with their second maul try of the game.
"We got a penalty straight away, a big call to go for the corner again and the guys backed it up, it was James Ryan," Sexton said of the moment.
"He was on it tonight, a couple of times we talked about going for the three and he just said 'no, go for the corner'.
"For him to show that leadership was a big step for him."
comments
Sign up for free and let us know what you really think!
Join for free