Lions camp highlights final day of trip through Wisconsin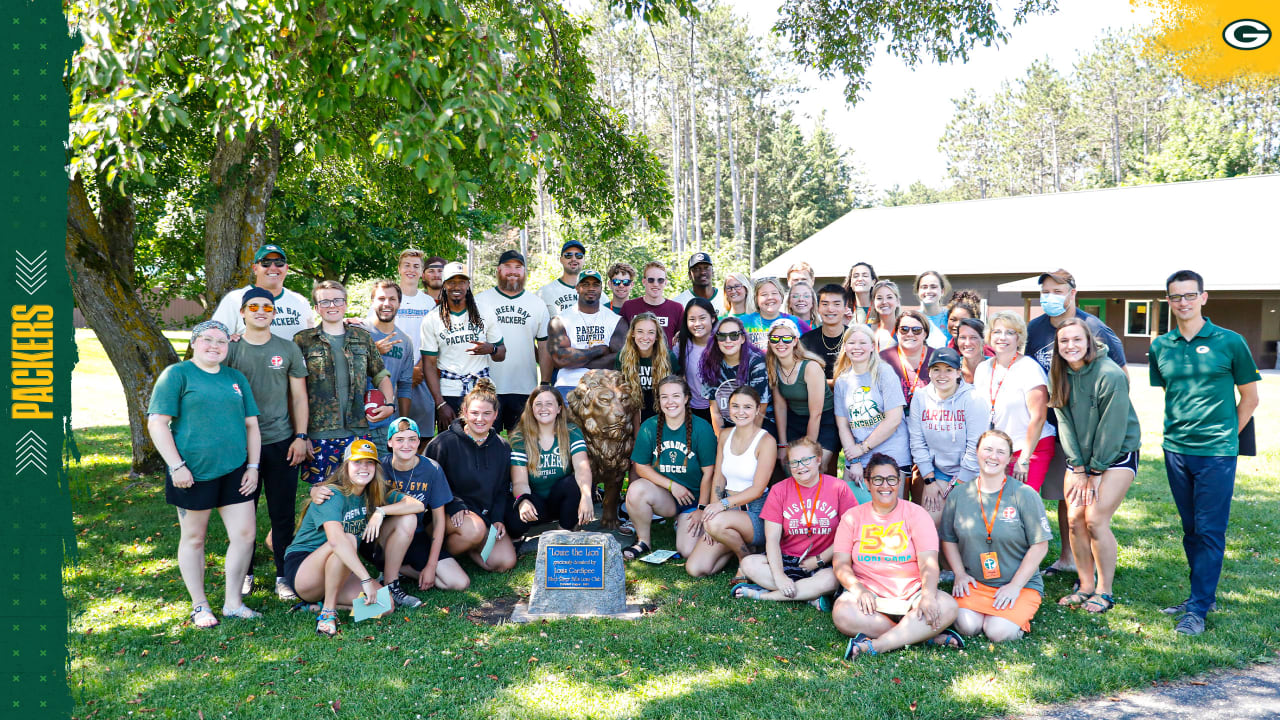 The final day of the Road Trip began with a pleasant breakfast at the Wooden Chair restaurant in downtown Stevens Point. Players enjoyed handing out Packers decals and other green and gold trinkets. They also posed for photos with staff and other patrons before heading out for the day's stops.
The "power of the pack" was shared with camp counselors and staff during the first stop at Wisconsin Lions camp in Rosholt. The camp is dedicated to providing quality camp experiences for Wisconsin youth and adults with disabilities.
The camp team, which was preparing to receive the campers of the week that afternoon, was curious to hear from the players what they thought was important about teamwork.
"Communication is key for any team," said Mike Neal. "It can be for anything – sports, business. Also be honest in your communications. If you're not honest about what you need to achieve, you can't grow together. Also be responsible and recognize your mistakes. It builds trust, which is key in a team."
Scott Wells, who has a family friend who works at a similar camp, praised staff for their dedicated work in ensuring campers with special needs have the opportunity to participate.
For a few advisers unfamiliar with the intricacies of football, James Starks showed how to properly hold a pigskin.
"High and tight," he said, pinning the ball to his chest.
Starks and Tramon Williams engaged some of the campers in a friendly two-man basketball game and afterwards campers and players mingled and shared stories about camp and football.
Camp Executive Director Andrea Yenter spoke with Mark Murphy about recent challenges in finding appropriate staffing levels for the summer. Like the leaders of other organizations, she has had to be creative in her efforts and has successfully connected with colleges across the state to recruit students who go into fields associated with the special needs of campers, including l endocrinology and pharmacology. .
She also enjoyed seeing her staff happily interacting with her visitors.
"After a long summer and some struggles with Covid, this is definitely something to get them through the last three weeks of summer camp," she said.
A final surprise stop was at the Kwik Trip in Bonduel, where the group handed out Packers gift cards and accessories to customers refueling and shopping at the store.
It was a chance encounter for Packers fan Rhonda Peterson, who stopped by the convenience store on her way home to Siren in western Wisconsin after participating in the Packers 5K at Lambeau Field.
"We've been following Road Trip all week and watching the various stops," she explained. "When the bus arrived it was a dream come true. It was just fun to get the chance to see these players I've been watching for years."