Interview with Will Smeed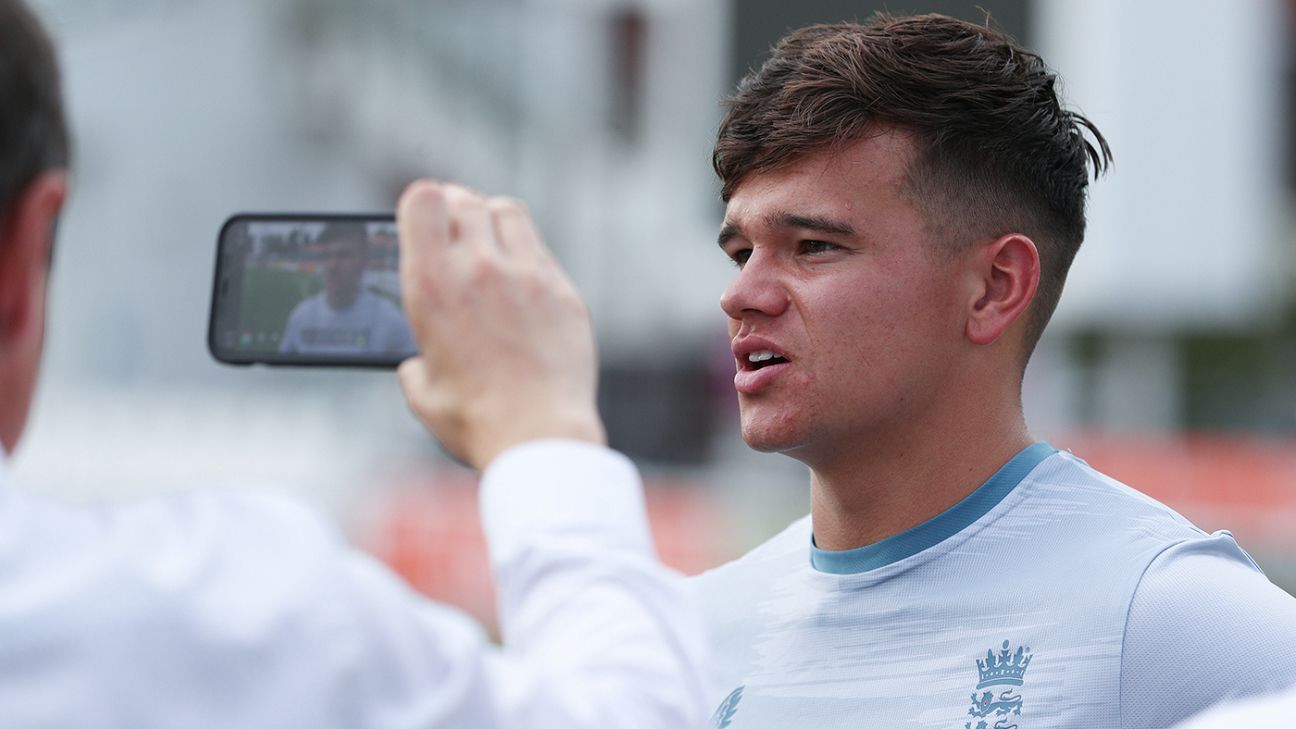 It's not often a player makes his A-list debut for his country's 'A' team, but Will Smeed is no ordinary cricketer. After scoring 90 from 56 for the England Lions against the touring South Africans in Taunton on Tuesday in a warm-up match, Smeed will make his official 50-ball debut at New Road on Thursday, three months away from his 21st birthday.
Smeed's career to date has been a microcosm of the modern English game: he hasn't made a first-class or A-list appearance, but has played 46 T20s, including a season for Birmingham Phoenix in the Hundred. Unique among English players, he played in the Pakistan Super League and Abu Dhabi T10 but not in the County Championship.
Not that he necessarily designed it that way. "That's just how it happened," he told ESPNcricinfo. "It in no way reflects my aspirations: I still want to play everything. It just so happens that I haven't really scored too many points in the second team, so it's not going to get me into the first team. I' I'm not sure that an average of 12 will get me chosen.
The 16-year-old hit a red-ball cent for seconds in the same innings as Marcus Trescothick but has struggled to score this season. "It's about trying to figure out what my best method is and that's something that has improved faster in white-ball cricket because of the opportunities I've had.
"The reality is that I haven't scored enough points. Here [at Somerset] above all, if you deserve a chance, you get it. I hope it's something that starts soon because I'm desperate to be part of this team. "Maybe he's a perfect fit for the Bazball revolution. What's going on," he says in laughing.
Most of Smeed's development followed the conventional path of a young England player: excellent training at an independent boarding school, impressive performances at the Bunbury Festival, graduation from a county academy and then elevation to the professional setup. But for a shoulder injury and the pandemic, he would have played far more than his three England Under-19 games.
But there has always been a slight difference with Smeed, the feeling that he is part of a distinct new generation. When asked at 17 to make a hypothetical choice between the Ashes, the World Cup and the IPL, he went for the latter option with a cheeky smile. He's built like a rugby center rather than a hitter, with forearms that are more Joe Calzaghe than Joe Root.
The result is a clean-ball hitter with a prolific record early in his career, averaging 30.54 in T20 cricket with a strike rate of 143.99. Smeed generates remarkable power, memorably knocking out Taunton's retirement flats in Somerset's Blast quarter-final against Lancashire last season.
Since making his T20 debut at age 18, only Glenn Phillips and Alex Hales have had more than sixes in the Blast. Most of his success to date has come in favorable batting conditions (he has an average of 40.93 with a strike rate of 151.60 at Taunton) and his next challenge will be to prove himself when the conditions offer something to the bowlers.
Smeed was not an extravagant choice in the Lions squad, despite his 50-plus lack of experience. The clash between England's domestic one-day competition, the Royal London Cup, and the Hundred means a number of England's most promising young whiteball players have barely played one-day cricket ; before Tuesday, Smeed's last one-day game had been against Bridgwater in the West of England Premier League.
But the English hierarchy have encouraged all of their development teams to replicate the attacking style of the senior ODI side. We spoke shortly after the Lions batting meeting on Monday afternoon, where the message was clear: "I don't think our mindset will be too different from a T20," Smeed said, " so that should help. We'll go out there with a lot of freedom and see where it takes us."
In Somerset's quarter-final against Derbyshire on Saturday night, Smeed had been troubled by the extra rebound generated by George Scrimshaw, a great dressmaker with good pace. "He obviously did well," Smeed said. "I felt like it was all either in my head or in my throat. I wouldn't call it an anomaly, but normally I don't worry too much about people running out – actually , I like people who try to make me understand."
He proved it against South Africa, by facing the pair of new balls of Anrich Nortje and Lungi Ngidi. But he was particularly impressive against the spin, hammering two sixes into a Keshav Maharaj over before laying down Tabraiz Shamsi over midwicket for two more straight balls.
"It felt like a T20 with less scoring pressure," Smeed said. "You have more time to absorb bullets if you need it, then when it's in your area you know you can capitalize." His dismissal, played for 90 years and looking to hit Andile Phehlukwayo for a straight six, was in line with England's one-day mindset, with limited interest in personal milestones. "The way we try to play, there's no pressure on us – as long as we look to be positive," he said.
Next on Smeed's agenda is Thursday's tour game and then a second consecutive day of T20 finals with Somerset at Edgbaston, his adopted home ground in the Hundred. His plans for the winter are not yet clear but he likes to travel: "That's where I feel I really improve, when I play cricket in different conditions, with different coaches and different bowlers."
This was more evident in Pakistan earlier this year, when Quetta Gladiators took him on as a substitute player; he has struck five times and made 97 and 99. Wherever he ends up – including the possibility of a Lions tour to Sri Lanka – the ECB will be watching his development closely.
There is no shortage of top-level attacking hitters to regenerate England's white-ball teams, but Smeed stands out for his prodigious skill. "It's nice to know that they are aware of your presence," he said. "The way I see it is that I try to do well in every game I play. Whatever happens, it's just about getting better at this stage, especially at 20 – I hope I'm far from my peak."
Matt Roller is associate editor at ESPNcricinfo. @mroller98