SunLive – Helping Pāpāmoa Lions Help Ukraine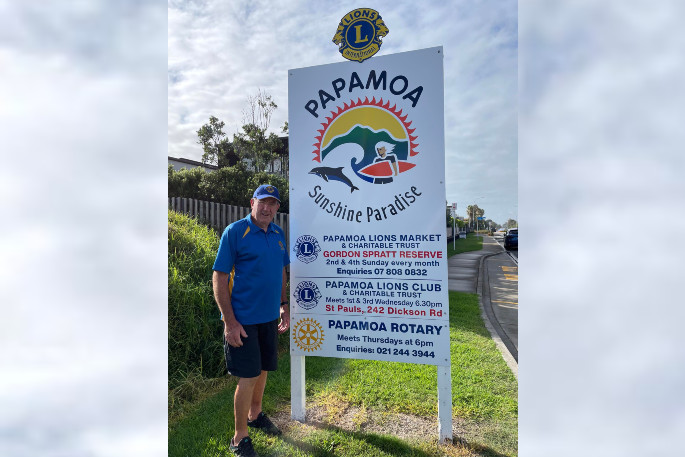 The Lions Club of Papamoa ask locals to support their efforts to help those affected by war in Ukraine on their first market day in May.
The club already made a donation a few weeks ago to the Lions Clubs International Foundation which ensures that all funds go directly to those in need in Ukraine.
"We have now also decided to donate all Lions donations and profits from the first Lions Market to the Gordon Spratt Reserve on Sunday, May 8," says Pāpāmoa Lions member Margaret Brasting.
"Like most New Zealanders and people around the world, members of the Pāpāmoa Lions Club are horrified when we see the news of the war in Ukraine and the humanitarian disaster that is afflicting innocent people, especially children.
"What we've also realized is that most New Zealanders don't know that Lions Clubs around the world are supporting the relief effort through the Lions Clubs International Foundation – and that 100% of all donations are for humanitarian needs."
Lions Clubs International Foundation – LCIF – is launching a global appeal through its Fund for Refugees and Displaced Persons. LCIF actively collects donations from thousands of Lions clubs around the world to ensure that Ukraine-based Lions can help people find the security they desperately need.
LCIF provides grants to Lions clubs that support Ukrainian refugees who have crossed their borders, and 100% of all donations made will go to the fund.
Lions members in Ukraine have also received grants from LCIF to meet the critical needs of those who remain in the country.
The grant will allow Lions to purchase and distribute immediate relief items, such as food, clothing, hygiene products, sleeping bags and medicine.
The Pāpāmoa Lions Market, which has been in existence since 2001, is held on the second and fourth Sundays of each month and raises funds for the local community.
The market features up to 200 stalls ranging from food, crafts, plants, produce, sporting goods, clothing, and bric-a-brac.
The benefits of markets go where they are needed most, locally and around the world.
"As Lions, we believe that this May market is not about Lions having a market or that our local club has already donated – it is about the fact that 100% of all Lions and Public donations will go to people in Ukraine where aid is desperately needed," says Margaret.
"It's an opportunity for local people to join us and donate a dollar or two that will add up to a much bigger amount and make a difference for the people of Ukraine."
The Pāpāmoa Lions Market is held at the Gordon Spratt Reserve on the second and fourth Sundays of each month from 8am to 12pm.
The special fundraising market for Ukraine will take place on Sunday May 8th.
Anyone interested in having a stand, please phone (07) 808 0832 or email papamoa@lionsclubs.org.nz