Coach sees Lions as men's rugby title contenders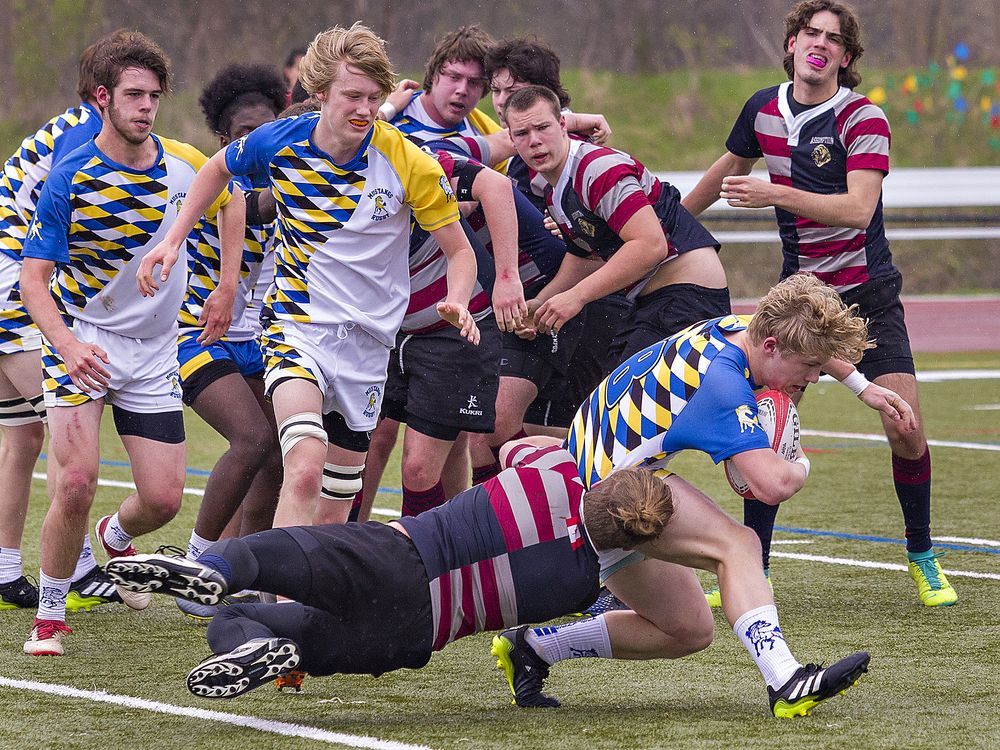 Content of the article
Coach Mike Cherewka says the Assumption College Lions are ready to challenge for a Brant, Haldimand and Norfolk Athletic Association Senior Men's Rugby Championship.
Content of the article
Although the Lions (0-1-1) came off the wrong end of a 19-17 decision over Brantford Collegiate Institute (3-0) on Tuesday in a game at Kiwanis Field at Pauline Johnson Collegiate, Assumption has showed he should be a force once the playoffs begin.
"We play close matches," said the coach.
"I am convinced that we can win (the championship). We have a chance.
The Lions haven't had many rugby seasons where they were legitimate Championship contenders, but Cherewka credited the players of this year's squad for changing that.
"We had a good group of dedicated kids who came in to play and they went out and found more kids to grow the program," he said. "Thanks to these children, we have more children coming to play for us."
Having good players doesn't guarantee success, but it helps when they are led by good coaches. Cherewka said the addition of Vincenzo Prior, a former BCI player, has been instrumental in the team's play.
"He brought a real BCI attitude with him, which is what the kids wanted to see," Cherewka said.
"He told them we were here to do these things, these are our goals and our goals and the kids focused on that."
In their first game of the season, the Lions led North Park Collegiate late in the game before the Trojans scored to draw 17-17 in the final. Obviously, it was disappointing for ACS to give up what they thought was a win, but Cherewka said it wasn't all bad.
"We played a good game and came away with a lot of positives," he said.
Content of the article
"It was our first game of the season. You always want to win but it was a good result. To hold on and come out with a draw instead of a loss, you have to see it in a positive way.
The Mustangs were the eventual winners on Tuesday, but things could have been different. Cherewka said just cleaning up a few things will make a difference going forward.
"We came to play," he said.
"We made some mental mistakes which probably had an effect on the game. It's the little mistakes that make the difference between winning and losing and we made a few little mistakes.
Early in the game, BCI took advantage of a pair of ACS penalties as Evan Wilson scored a try and Kyan Hager kicked the convert for a 7-0 lead over the Mustangs after just three minutes of play.
Midway through the first half, Assumption smashed their way deep into BCI territory with great rucking as the penalties also hurt the Mustangs. Finally, in the 18th minute, Garrett Good scored an unconverted try for the Lions to make it 7-5.
It was the first score against BCI this season in AABHN play and the Mustangs didn't like it as evidenced by the fact that they got off to a quick start, pinned Assumption deep, then took a 12-5 lead on a unconverted essay by Kaelan Mifflin.
In the second half, the Lions scored straight away when Chris Liota found the try zone and when the conversion attempt was not good, ACS were within two points.
Alex Thomson then gave BCI some respite with a 15th-minute try, converted by Hager, before Nick Ellis completed the scoring with a try for Assumption on the final game of the game.
Greg Crewson pitched the convert.
The Lions will end the regular season with games against St. John's College and Holy Trinity Catholic High School in Simcoe. Neither will be easy.
Cherewka said Assumption will focus on fixing his mistakes as he looks to make a run in the playoffs.
The league, usually dominated by BCI and St. John's, is "really open this year," the coach said.
"This year is much more fun. "